Dream Car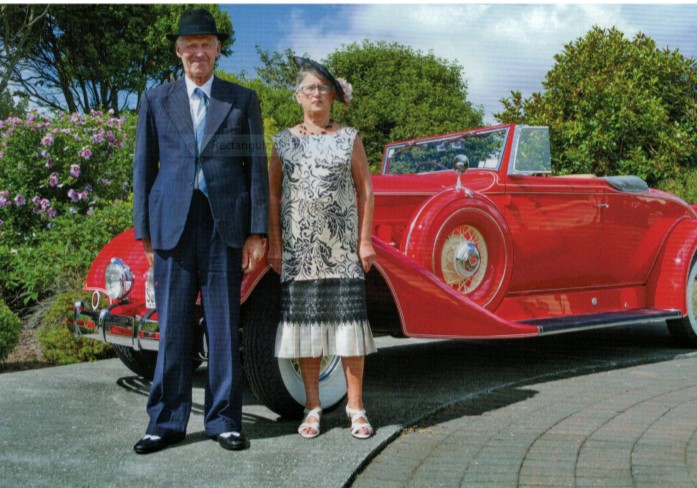 "Ask the man who owns one" was Packard's slogan, so we did, but, in these enlightened times, we asked his wife as well. A morning with Graham and Pam Giacometti and their spectacular 1934 Super Eight roadster gave us a good understanding of why people choose Packard.
Having sold their South Taranaki dairy farm, the Giacomettis bought a restored 1929 Graham Paige in 2005 and discovered Napier's Art Deco Festival. A friend asked Graham one day what his dream car would be, and his answer was, "a Packard." Early in 2007, he spotted a stunning bright red roadster for sale on a local auction site. Because it was right-hand drive, he assumed it was a kit car or replica, but curiosity got the better of him, and he rang the owner, Steve Trott.
Steve assured Graham it was no kit car. He'd bought it in a complete-but –sad state at a Shannons auction in Sydney in 1996 and shipped it home to New Plymouth for restoration. As it turned out, though, the car wasn't complete_ the cylinder head and exhaust manifold were the two most critical of several missing parts, and Steve wondered where he would ever find replacements.
To his surprise he saw his car's missing items advertised in the Unique Cars magazine, and he rang the seller, ready to abuse him for not including the parts in the sale of the car. However, it wasn't the previous owner selling the parts. The car had been hurried removed after a marriage breakup, and the parts had been left behind, until being rescue by a Packard enthusiast. Steve was thrilled to receive the missing items at a very good price.
Refusing to drive a left-hand-drive car, Steve found the parts needed to convert it to right-hand controls. A Packard collector in western New South Wales advertised a host of parts for sale, and confirmed that he had a complete early 1930's chassis. Steve agreed to pay the reasonable asking price for the whole chassis, if the seller would remove only the items Steve wanted and keep the rest. While these bits had been fairly easy to find, moving some from right to left was more difficult. The rumble-seat steps and the tail lights had to be specially cast, as the mudguard curvature meant that they couldn't simply be swapped over.
Steve entrusted the panel work to Trevor Gordon in Katikai, and Waihi Car Painters applied the beautiful red paint. The raised rib around the upper body is a slightly different shade , so subtle that it's only visible in some lights, and graham sometimes wonders who made such a superb job of the hand painted pin striping.
The Packard was registered for New Zealand roads in February 2000. Seven years and just over 5000km later, Steve, by then retired in Napier, had decided to sell the car to make way for a new arrival to join his two auburns.
Art-Deco purchase
Having become hooked on the Art Deco Festival, Pam and Graham went to inspect the roadster on the Monday before the 2007 event. The online photos hadn't prepares them for the real thing. They took it for a test drive, and returned to ask if they could pay for the car and use it for the festival. Naturally, Steve was happy to agree, and gave them the keys to his garage so the car could be under cover each night.
The Giacomettis had to call on a son-in-law and his friend to come to Napier with a utility and trailer to collect the spares that came with the car and to help with getting their camper, the Graham Paige, and the Packard all back to South Taranki.
Since then, they're added nearly 10,000km on the odometer reading. They had an enclosed trailer built and the Packard spends most of it's life stored in this pleasant environment, in their huge shed. It's often trailed to events, including to the south Island for a classic rally in 2008. But it was driven to Gisborne in 2010. The South Island rally was memorable for several reasons-one was the drive over the Crown Range; another was being delayed in Te Anau for a whole morning by several busloads of international tourists who were enthralled by the big car; and yet another was the only mechanical problem the Giacomettis have encountered with it: the oil cooler split, allowing oil to mix with the coolant but not vice versa, so it didn't actually disable the car. With several water changes they made it to Dunedin, where the cooler was by passed, and they haven't seen the need to replace it.
A Saturday morning drive on quiet Taranki roads in a Packard roadster is something to savour. The car has presence no one could ignore, even though there were few people around to see it. It's a different story at the Art Deco Festival, Americarna, and other shows, at which it's a patient photographer who manages to get shots of the car without it being surrounded by admirers.
As Graham demonstrated, the Packard will drift along at just 8kph in top gear and pull away strongly and smoothly from that, It will even idle up a slight rise in top, and there's a good surge of acceleration when he puts his foot down. He says the steering isn't heavy, and the brakes work surprisingly well, although petite Pam finds she has to almost actually stand on the pedal to stop the over two-tonne car. It's an interesting mix of technologies - the brakes are mechanically operated when quite a few cheap brands of the era had hydraulic brakes, yet they are vacuum assisted when virtually no other cars had power brakes at that time. There's even a lever on the dashboard that allows the driver to select one of the four level of power assist.
A Super Eight
Being a Super Eight, the Giacomettis' Packard has the bigger of the two eight cylinder engines offered in 1934. Its 6360cc come from a bore of 88.9mm and a massive stoke of 127mm. With those dimensions and nine main bearings, it's no wonder that its 108kW at a leisurely 3200rpm will pull the big car away so smoothly and swiftly from just 8pph in third gear. It's definitely a super eight.
Looking more closely, the Packard has some interesting details and advanced features. There is a small radio built into the comprehensive instrument panel, and the panel also houses an oil fuel gauge, and an accurate wind-up clock as well as the usual array of dials. The car was built in the last year of Packard's vertical grille, and the grill bars swivel to block air flow until the engine warms up. Other neat little touches include pads that flip up to provide arm rests for rumble-seat passengers and clever linkages that allow the quarter-lights hinged on the windscreen pillars to move with the doors.
The shock absorbers are adjustable from the driver's seat, and an automatic oiling system feeds oil to the many friction points around the car. Consequently there are only four grease points, which is unusual for its era. The sales booklet proudly boasts that the engine has as oil-conditioning system: "Increased motor life with lessened repair bills may be expected with the three-unit motor oil system that includes crankcase ventilation, a full-flow oil filter to remove any possible abrasives, and an oil temperature regulator that cools the engine oil in summer and heats it for winter efficiently."
So pleased was Packard with its super Eight that it claimed the model's only real rival was the Packard Twelve. Its copywriter got a little carried away – "probably the greatest secret of the Super Eight success rests with its motor, which is literally enshrined in an engineeringly fine chassis and crowned by a luxuriously fine body, both typical of the refinements that have long characterised Packard big car design. It is this motor that makes such a magic-like showing in silent, silky power, in flashing performance, in top speed." While modern spellcheckers won't recognise the word 'engineeringly', a ride in the Giacometti super Eight makes it hard to dismiss the words as mere advertising hype. Packard said it all added up to "a delightful riding and driving quality termed road ability", and that an easily justified claim.
Having asked the man and woman who own one, did we get an answer? Undoubtedly, yes. Not so much in direct words but more in the obvious passion the Giacomettis displayed when showing and discussing their beautiful car. Not that words are really needed – the Packard speaks for itself.
Posted: Tuesday 27 February 2018