PACKARD MOTOR MUSEUM 1954 Packard Limousine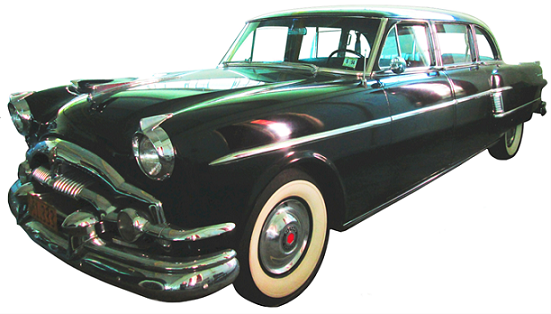 Perhaps the most prestigious vehicle at the Packard Museum is the 1954 Packard Patrician (Henney) Limousine. This car was one of five supplied by the Packard Motor Company to the US government for use by President Eisenhower.
Over the years, Packard provided a number of vehicles for use by various Presidents and government officials of the United States. The first was a Packard Twin Six purchased by the Republican National Committee for President Warren Harding in 1921. Warren Harding was the first president to drive a car to his inauguration and the first president to be a qualified driver. Later President Roosevelt drove a 1939 Packard V12.
Our Packard Limousine has a custom-built body assembled by the Henney Motor Company of Freeport, Illinois. Henney had a long-established relationship with Packard, mounting their coach-built bodies onto the Packard commercial chassis. By 1954 Henney was experiencing financial difficulties (and eventually ceased operations), in this year only 35 of these Patrician limos were built. This beautiful limousine would be one of the last examples of co-operation between the two companies.
The eight-seater limousine is the largest Packard built in the 1954 model-year with a 149 wheelbase. It is powered by a 359 cubic inch side-valve straight eight thunderbolt motor that produced 212 horsepower. This motor was the most powerful production straight eight ever made. 1954 was the final year Packard used the highly respected Straight Eight engine which was first introduced in 1923.
The Limousines weighed approximately 2.1 tons and cost between $7,200 and $8,200 – three times the price of a standard Packard Sedan. The glass in the car is strengthened but not bullet-proof.
Graeme Craw imported this car from the United States in 1986 to add to his growing Packard collection.
Posted: Monday 15 February 2021