WORKHORSES SHARE TOP BILLING AT NAPIER FESTIVAL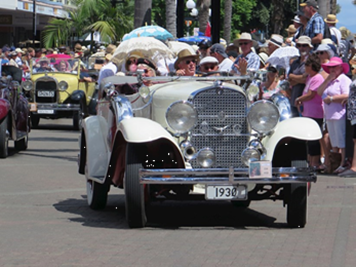 Napier always adds a touch of style to the Art Deco Festival vehicle parade.
Think Art Deco and cars and you're likely to think of early streamlining, of stars of the silver screen with their limousines, of gangsters making Prohibition-era getaways.
That means Labour Prime Ministers and working-class cars won't be top of mind, but they did top the bill at this year's Napier parade.
The vehicles that usually headline festivals like this once cost a king's ransom — such as the Studebaker President owned by Doug and Barbara Bixley, driven by their son this year, and retailing at a cool £1132 when it was sold new in 1931, at a time when Doug Bixley's father earned £1 a week plus keep.
But the Model T in America and the Austin 7 in England were bringing motoring closer to the masses, the internal combustion engine was powering commercial trucks and buses, and between them wove fleets of delivery boys, their bicycle baskets heavily laden.
Commercials, both light and heavy, weren't glamorous but they were an integral part of early NZ society. This is why the Hawkes Bay Vintage Car Club that organises the parade focused on commercials for this 31st Art Deco Festival, although only those under three tons with a wheelbase less than 4m could join the parade, thanks to some narrow bends.
Tractors and traction engines were relegated to the waterfront.
As a result, the usual crowds decked in chiffons and furs, tailored waistcoats and gold watch chains were leavened by the overalls, sacks, boots and caps worn by the crews of more than 35 pre-WWII examples of the pick-up truck brigade from as far afield as Invercargill and Whāngārei.
Perhaps the earliest of these came from the deep south, as Bill Richardson Transport World brought up its chain-driven 1914 Stewart Truck, the only known survivor of this make — which is not related to the Stewart Motor Co of NY.
Built in the US, it was bought new by JBC Watt, in Gore, and worked on his farm, its longest-known departure from home being a trip from Waipounamu to Dunedin to collect a load of kerosene. Bought in 1999 by Bill Richardson from the original owner's grandson, this one-ton truck is powered by a twin-cylinder horizontally opposed transverse motor.
Many of the light commercials were immaculate, the bright red Richardson Transport World 1933 International D1 and Tony Haycock's dark blue 1932 Chevrolet BB pick-up being especially eye-catching.
Others were heavily laden, and a few showed a sense of humour — such as David Hobbs' 1928 Ford Model A pickup with "hurrying slowly" painted neatly on the tailgate.
Most striking, however, was the contrast between the earlier basic cars and the more space-age of the 1930s autos. Some of the former literally looked like carriages with the shafts cut off, this year illustrated by Tom Clouston's 1908 Holsman High Wheeler, which reportedly would reach 55km/h when new.
As for the latter, who could ignore Bill Rendle's 1937 Hudson Terraplane?
Plenty of other rarities were seen around town — either in the parade, or in streets closed to all but pre-1940s vehicles.
One was Ross and Glenys Mitchell's 1939 Packard Station sedan, restored with original running gear and steel panels. The restoration used an original sales brochure photo — scaled to full size — as a guide, and the woodwork was guinea rosewood for the frame and Fijian kauri panels; the result glowing in the Napier sun.
As for the PM, her bodyguard ousted this writer from her position navigating a 1918 Packard while she took the back seat for the parade. Usually parked at Wānaka's Wings and Wheels museum, this 12-cylinder behemoth cost the equivalent of 27.7 Model T Fords when new, and includes a drinks cabinet, two flower vases and a table for the bigwigs out back, plus a folding roof, while the driver and servant sat out front — the footman's position taken by Jacinda Ardern's bodyguard for the parade.
Those planning for next year should note that the featured marque will be the fabled Bugatti, with 15 overseas cars and 12 locals already tipped to attend, supported by a pack of Packards en route for an East Cape circuit.
Reproduced with permission from Driven the motoring section of the NZ Herald.
Published 03/03/19.
Posted: Monday 15 February 2021